There is an issue that I have noticed in my time in this line of work and that is a lack of confidence with a lot of newer whisky drinkers or people that have not tried a variety of different drams.
There was an old image of whisky drinkers, being seen by many to be daunting to be around as they could have more experience and knowledge on all aspects surrounding the drink such as;
History of the distillery
Different cask styles
Age range of the spirits
Comparisons to older expressions of the same age statement
How it should be drunk

 
In some cases, this could be seen as being intimidating for certain people who don't have such in-depth knowledge of the subject.
I do think that this has changed though, more and more people are getting into whisky but there are many who are almost apologetic during tastings because they feel they don't have the experience to properly enjoy their dram.  I have always thought that if you enjoy it, that's all that matters and if it's a non aged statement, mass produced blend which is bottled at 40% or a cask strength, single cask from a distillery which has a large following and is seen by many to be a higher quality dram, it's irrelevant, as long as it suits your palate.
This is not a criticism of anyone who is trying to educate others because that is also very important but is more my message intended for those who don't have that experience to not be overwhelmed or feel pressured to like something because someone else says it's good. If you don't enjoy it as much as they do or enjoy it more, then there is nothing wrong with that – having your own opinion is a must.
Blind tastings, in my opinion, are brilliant to help people get a proper gauge on what they really like rather than what they think they should. One of my first blind tastings was done in the Cadenhead Whisky Shop in Campbeltown with a whisky group where I prepared 3 bottlings from very well known distilleries. 2 from distilleries that don't have the same exposure as some others do, but still very good whiskies, and a single grain at the end.  The single grain actually won the tasting but when I revealed what the whiskies actually were the group decided they didn't like it!  As soon as I said the word 'grain' a discussion amongst them started and it was no longer their favourite and the one which was their 4th favourite during the tasting suddenly became number one!  That particular bottle was from quite a well known distillery – not that it wasn't a good whisky, it was just clear to see that the groups choice was swayed by where it was from rather than what their palates thought was best.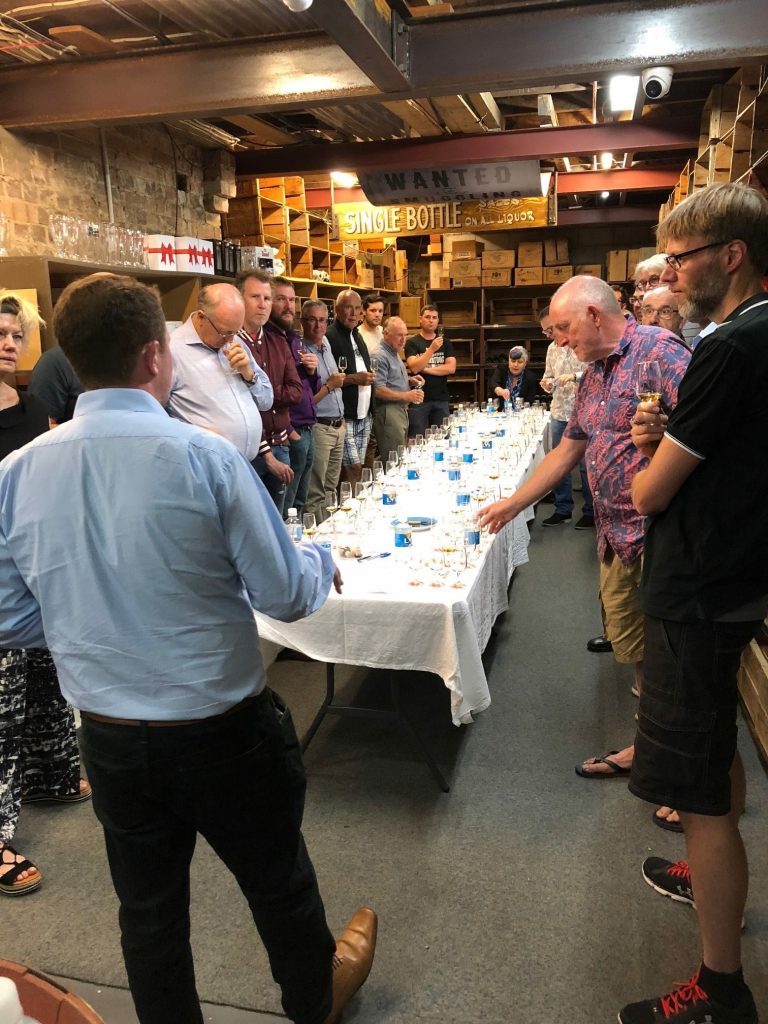 Another great example was during my visit to the Cadenhead Shop London recently.  During one of their regular blind tastings, some of the 2nd Summer Authentic Collection was being presented.  Now, this was slightly different as the full release was being launched the next day so the participants did have a list of bottles that potentially could be the ones they were tasting but one of the releases was a big surprise to many of the tasters. During this particular dram, I heard some talk about how some of the participants were convinced it was the 24yo Ardbeg but it was then revealed to be the 8yo peated English Distillery bottling.
I would like to have a time machine to find out what the group's opinions of the dram would've been if they had knowledge of the distillery and age before tasting. It may very well be that they thought of it in the same high regard but I do believe that having the knowledge of age and distillery will influence opinion.  It's certainly not a criticism, I most likely have been guilty of doing the same thing at some point but this is why I love blind tastings as it takes out the potential for judgement before tasting.
When it comes to bottling whisky, or any spirit for that matter, we at Cadenhead's have to go into depth with flavours, body, texture etc, but we also appreciate that so many people like so many different styles so we try to appreciate that fact whenever judging and selecting what we bottle. It can't just be whether myself, Mark or Jenna liked that particular cask.
Discussions about trusting your own opinions are not new, I just wanted to write about my experiences on it and what I have seen during tastings.  Everyone had to start drinking spirits at some time and no one knows everything as every day brings a new lesson in this industry so I hope that it can give people participating in tastings more confidence Just enjoy what you like, you may find that you really like a distillery/style of whisky which you may never would have thought about trying previously! 
To summarise…don't be scared to have your own opinion and be open minded with whisky.
Slainte
Cameron