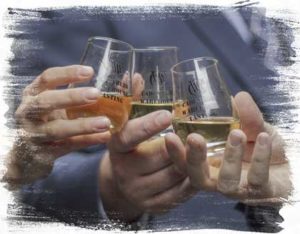 I have just signed off on the 7th batch of our 12yo Wm Cadenhead Blend to be bottled and agreed on the vatting for the 8th batch so I thought it was a good time to explain a little more about the process involved with this blend.
The theory behind the blend is to maintain a predominately fruity, sherry cask blended whisky which evolves from from batch to batch. To achieve this we have employed a Solera type system of maturation, which basically means the people that work in the warehouse hate me!  
Initially we vatted together 7 casks worth of a 12yo Blend which we then returned to sherry hogsheads.  When it was time to bottle it we bottled three casks worth of the blend. The remaining 4 casks were vatted together with 2 casks of malt whisky and 1 cask of grain whisky before being returned to 7 sherry hogsheads and this process has now been repeated 7 times.  This means that there is always more of the previous vatting in the mix than the volume of whisky added each time, helping the blend to evolve with each batch but still retain its core style.
Hopefully the below diagram will make this all crystal clear!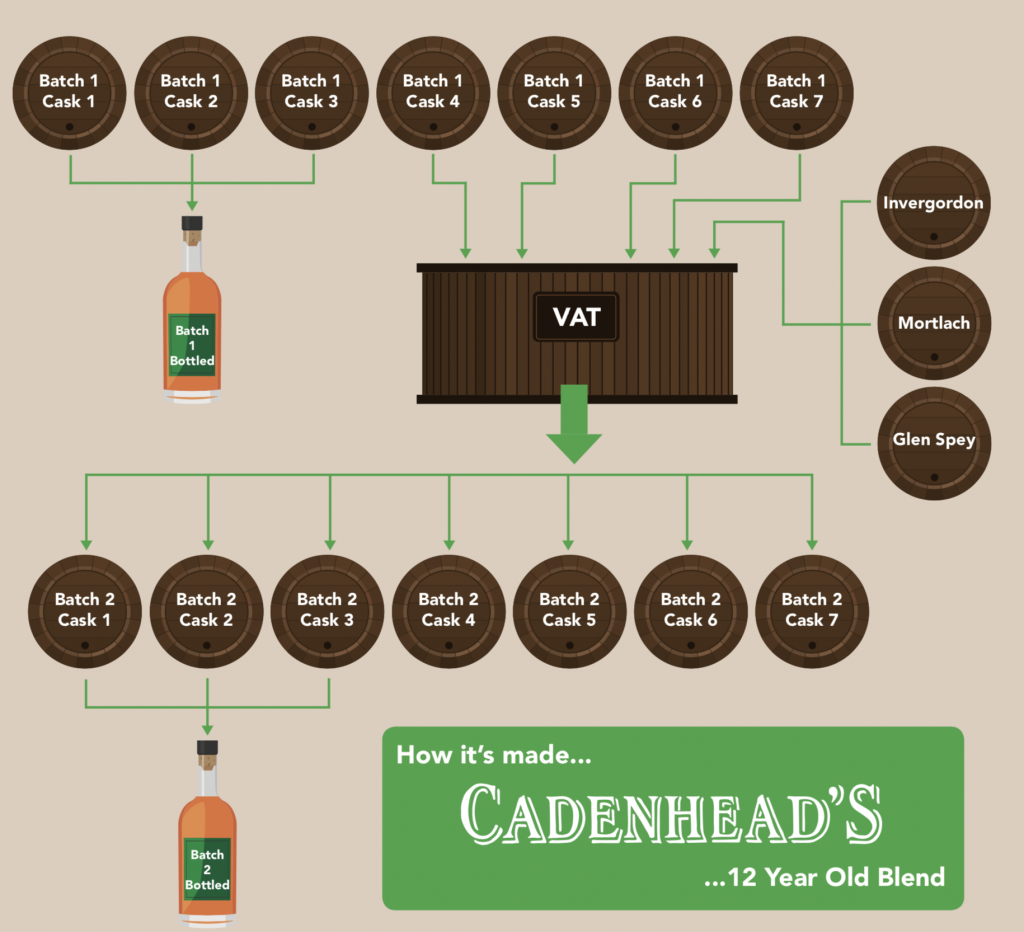 I also thought that it would be a good idea to show you exactly what has been added to each batch.  Normally, it is a simple case of two casks of single malt and one cask of grain whisky being added however sometimes, such as in Batch 4, 5 and 7, we have added casks of malt whisky that have previously been blended.  For example, in Batch 4 we had previously vatted Benrinnes, Dailuaine, Glenfarclas and Balmenach and filled this into two sherry hogsheads for nearly 2 years before we used these as a component of the blend.  A full breakdown of each batch is shown below – with an estimate of the percentage of each of how much of the previous batches would remain in the mix.
Batch by batch additions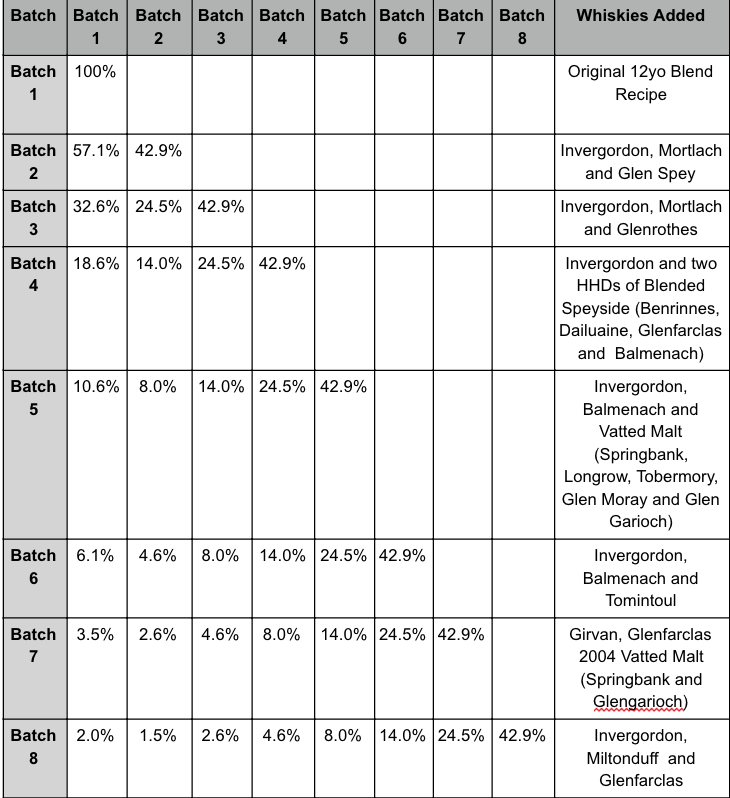 So hopefully this will help show that there is more that goes into our 12yo blend than initially meets the eye.  That said, at the end of the day, all that matters is that it is an excellent dram and one that you certainly shouldn't overlook.
Tasting notes for Batch 7
Nose:  Rich, fruity sherried nose.  Faint wood spice, peaches, raisins, maraschino cherries and strawberry yoghurt.
Taste: Thick and chewy, with golden syrup, dried ginger, brown sugar, orange zest and honey.
Finish:  Soft spice, cloves, star anise along with oloroso sherry, gingerbread, almonds and burnt oranges.