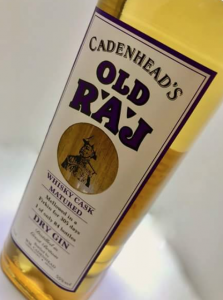 On Saturday the 21st of April we attended Gintyre, Campbeltown's first ever Gin Festival. I would recommend any Gin fan attends next year as a good day was had by all – and I particularly enjoyed it as I was  mainly on the visitors side of the stand for a change!
At the event we launched the latest addition to our Gin range.  Old Raj Whisky Cask Matured Gin,  This is our Old Raj gin which has been matured for 305 days in a ex whisky firkin (A 50 litre cask).
Only 84 bottles came out of the cask and it was very well received with many bottles finding a new home during the course of Gintyre.  A limited number of bottles are left in our Campbeltown Shop with a small amount arriving shortly in our London and Edinburgh shops.
The cask aging adds a soft whisky touch to the gin but with out overpowering it.  Crucially the cask influence adds a lot more body to an already quite creamy gin, with hints of spice and vanilla.
We appreciate that many people will miss out on this particular release but following on from this successful experiment and from the release at last years open day we are pleased to say there are several casks of gin currently maturing in warehouse number 9.
Various types of casks have been filled, such as Kilkerran, Caol Ila and Rum casks etc and obviously I had to fill an Ex-Caperdonich cask with gin!   There are no immediate plans to bottle any of these, we will stay true to our ethos on this and we will only bottle them when we like them, so watch this space for future releases!