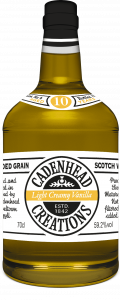 Grain whisky is always the ugly duckling of the whisky world, but for me it can be equally as amazing as a single malt. Grain whisky doesn't have the romance of malt whisky – I know of no stories of an illicit distiller of single grain whisky having their column still seized by the excise man or people writing songs or poems to the glory of the column still.
"Oh column still oh column still how tall and industrial you are"
See it doesn't have the romance of the pot still or the hills and the glens or the roamin in the gloamin etc.
People look down on grain whisky – for, let's be honest, most of us are malt snobs – and I couldn't count the amount of times I have heard, "I don't drink grain whisky – I am a malt drinker, I am a member of a malt whisky club, don't you know!"  Well any of you who know me will know that if I hear you saying that you are likely to have your tasting cut short! No offence and, at the end of the day, if you don't like something you don't like it – but at least try it!
I remember once (many years ago) hosting a tasting in Denmark for 300 people and  one of the next whiskies we were going to have was a grain whisky and I heard a member of the audience say that he didn't like grain whisky.  Me being me took the guy up on this and said he was entitled to his opinion but he was wrong! I asked him which grain whisky he had tried and he said he had never tried any!  I made him repeat this in front of 300 people and he left the tasting with a case of Invergordon!
I have always said that I will never bottle a young grain, in my humble opinion grain whisky needs more time in cask, and  I have often been quoted as saying I will never bottle a grain whisky less than 20 years old and I stick by that. I honestly think that grain whisky needs time, grain whisky is a much more neutral spirit compared to potstill distillate and often it is filled into tired wood so it needs at least 20 years in cask before it will shine.
But when you let grain whisky mature it turns into something special, some of the best whiskies I have tried since I joined Cadenhead's have been single grain whiskies, The Carsebridge 1976 that we had were something special, never mind the 1989 Strathclyde we have bottled or the Cambus or Caledonian nevermind the Invergordons or the Port Dundas.  Give it time in cask and the whisky will deliver stunning results.
So why, you may ask, have we bottled a 10yo blended grain? Well, legally I can't tell you the ages of the  component parts but legally it is 10yo. I took a cask of 10yo Girvan and vatted it with a cask of Strathclyde and after a year of marrying I thought it had turned into something brilliant.  It has the vibrance of a young grain coupled with the depth of age from the Strathclyde. If you like grain whisky half as much as I do then I think you will love this.  Full of custard, icing sugar and then a buttery biscuity finish.
Being honest this probably won't fly off the shelves like the robust smoky embers (put ardbeg in a blend and anyone will buy it – it's not rocket science!) but if you try this I am sure it is one that you will keep coming back to.
If you're  like me you will buy three bottles, one to drink now, one to drink in the future and one to tease people with once they discover how good this is after it is sold out!
All I can say is if you don't like it – I will drink it for you!
Mark
Creations Light, Creamy, Vanilla Batch 4 Blended Grain 10yo 59.2% 
Tasting Notes
Nose: Custard and kiwi fruit.  Very creamy
Taste: Vanilla ice cream, icing sugar and creme brûlée
Finish: Cream soda, light toffee and cola sweets