Cadenhead Club Bottling – April 2019
Glenrothes-Glenlivet  22yo
Sherry Butt – 54.7% – £75.00 per bottle
This bottle was chosen by Cadenhead Club members at the exclusive Club tasting during the 2018 Campbeltown Malts Festival.
Glenrothes-Glenlivet  22yo Sherry Butt

Cask type: Sherry butt
Distilled:1996
Bottled: April 2019
Strength: 54.7%
Outturn: 636 bottles
Price: £75.00
Please read the order process carefully before placing an order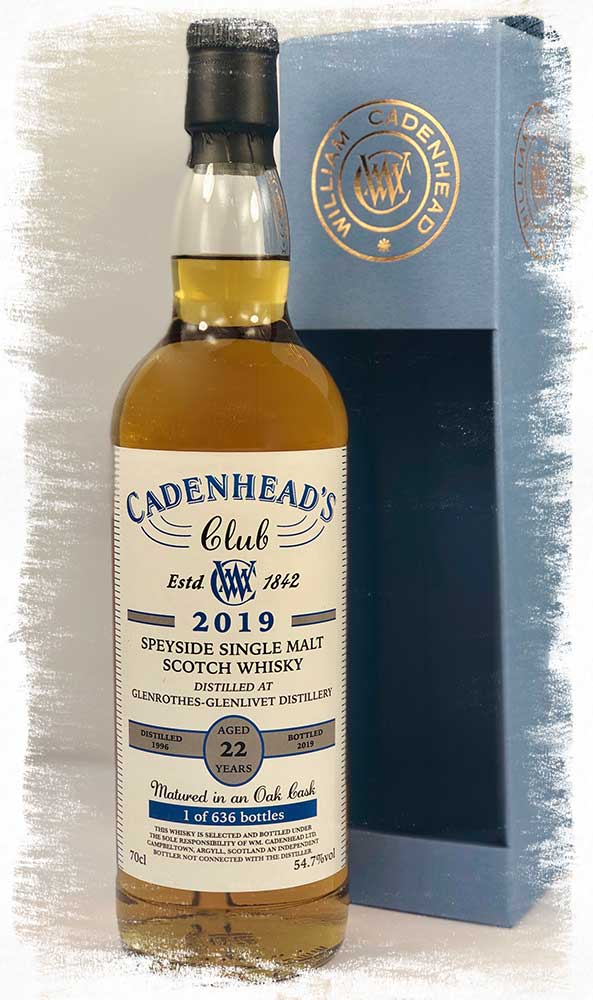 Nose
Oily, fresh root ginger and nutmeg.
Taste
Well balanced, subtle sherry notes. A touch of spice and juicy clementines.
Finish
Subtle spices continue; mace, ginger. Thick golden syrup and citrus fruits.
New Cadenhead Club Release Terms of Sale
This Glenrothes-Glenlivet 22yo (Sherry butt) is available from 2pm (BST) on Tuesday 9th April 2019.
These bottles are on sale for £75.00 and this web page represents the only method of purchase.
When using the form on the right of this page, please enter the email address you have registered with the Club and your Club membership number. If you are unsure of either of these details please contact [email protected].
When you place your order you will be required to enter your delivery information;
If you wish for the order to be sent to your house, please select this option then enter your delivery address in the message box. There will be a delivery charge which will vary depending on the destination.

If you would like to collect your bottle from one of the Cadenhead shops (Campbeltown, Edinburgh, London, Odense, Berlin, Cologne, Vienna or Baden) – please see the details included in the Cadenhead Club emails prior to the launch of this product. There is no delivery charge for sending your bottle to a Cadenhead Shop.

If you have any other delivery preferences (not covered by the points above) then it may be helpful if you include them in the message box
Once you place your order you will receive an email letting you know that your order has been completed.
If you are looking to have your Cadenhead Club bottle sent to a Cadenhead shop, please note that the shops are not obligated to send bottles on to another address.
Lastly, please be aware that there are a small number of countries that we cannot deliver to, including the USA. If you think this could apply to you and your country please get in touch with us via [email protected].
If you have any questions or concerns, please contact us in the usual ways.
Slainte,
The Cadenhead Club
Sorry due to the Covid 19 scenario we aren't currently shipping bottles.
Join our notification list below to receive an email when we reopen.
Join our reopening notification list